---
solo exhibition


---
Miha Majes
Hi!potheses
3. – 24. 2. 2023


opening
3. 2. at 7pm



curator
Mojca Grmek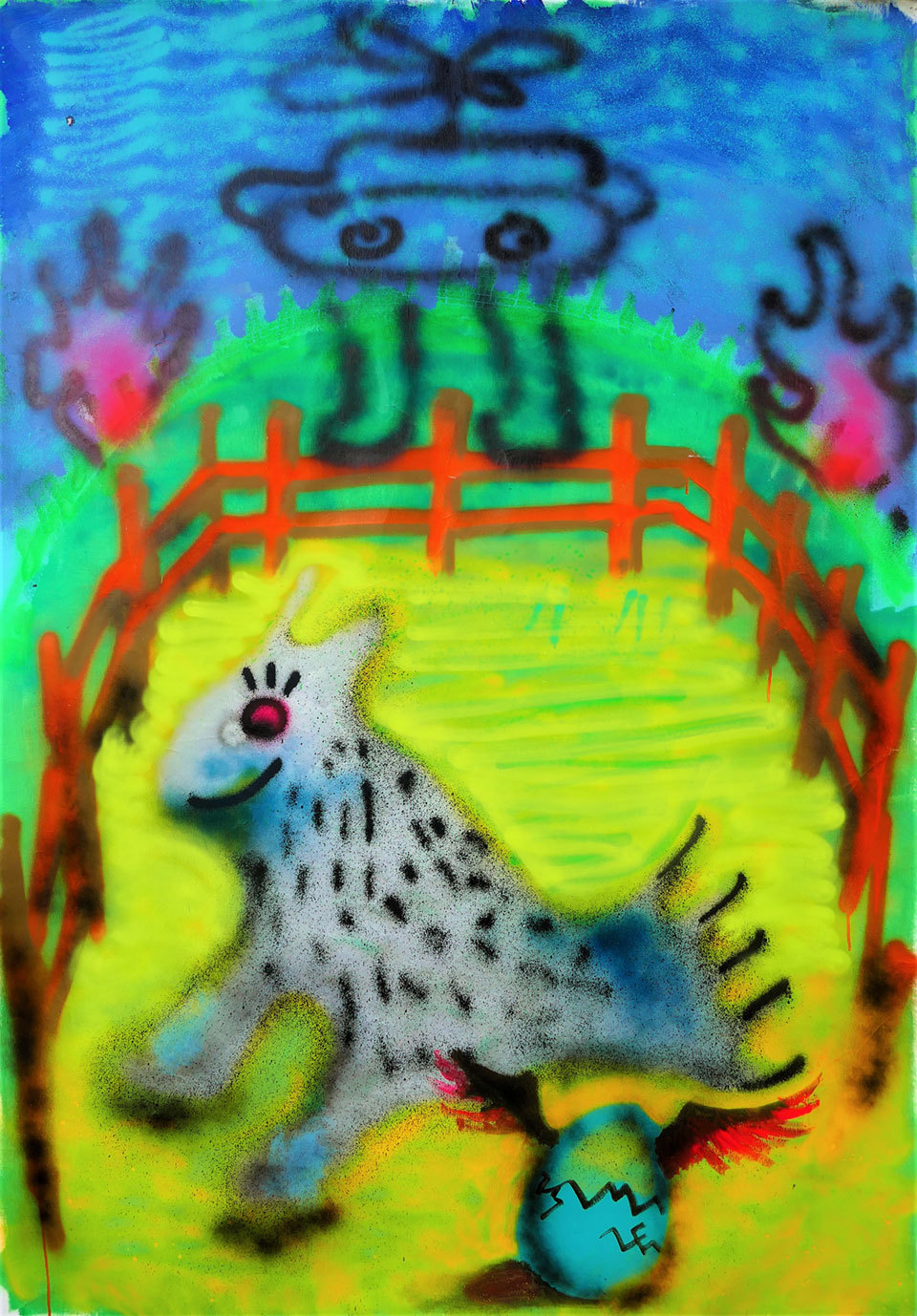 Miha Majes is a visual artist of the youngest generation, working in the fields of painting, printmaking and spatial installation. He defines his visual language as a millennial interpretation of pop art in late capitalism and an appropriation of consumer aesthetics that addresses the lack of thinking skills in today's society. Accordingly, he often uses the iconography of pop- and sub- culture(s) in his works, incorporating various everyday objects (toys, gadgets, ornaments, clothes, etc.) and spicing it all up with elements from his personal mythology shaped while growing up in the Slovenian countryside.

The works presented in the exhibition at hand are linked by the title Hi!potheses. It is summed up by the opening painting to the entire exhibition that depicts an enclosure in which a fantastic creature composed of parts of various animals is imprisoned, next to which stands a cracked egg with outstretched wings. The image, on the one hand, represents the confinement of the imagination and creativity within the (art) system or structure, and on the other hand, the desire for liberation. The title Hi!potheses therefore summarises the artist's exploration of new forms of expression in artistic production. In this sense, the term hypothesis takes on a somewhat different meaning than usual, which the artist also marks with an exclamation mark. If in the scientific field it denotes an affirmative statement that has to be proven or confirmed, here, in the field of art, it stands for a kind of antithesis to the existing, a conceptually open position that can have several possible solutions.

One of the artist's hi!potheses refers to the way artworks are created and consequently exhibited. In the exhibition, Majes presents paintings and objects juxtaposed as an installation in the gallery space. The paintings and objects were created in parallel, and by switching from painting to object and back again, the artist constantly left the form open to new solutions. The gradual and experimental character of the creative process is also reflected in the compositions, which at first glance are characterised by a bold interplay of different techniques, materials and styles, as well as the transition between painting and sculpture.

In terms of content, too, the exhibition is conceived as a collection of different fragments, for the artist's works touch upon the many problems of today's world, from terror and military conflict, to ideological, political and religious extremism, to environmental pollution and climate change. Although the cynicism, grotesqueness and decadence associated with these issues are undoubtedly reflected in his works, Majes does not want to be gloomy about it. This is why, he approaches these problems with a certain naivety, playfulness and humour, convinced that they are much more likely to open a path to reflection than lecturing or pointing the finger.


---

Miha Majes (1993) graduated in Painting from the Academy of Fine Arts and Design in Ljubljana in 2019, where he is currently pursuing a master's degree in Printmaking alongside with Painting. During his studies, he also furthered his knowledge at the Accademia di Belle Arti di Brera in Milan. He has presented his work in solo exhibitions at the Alkatraz Gallery in Ljubljana (2021) and TransStation SubArt in Kranj (2022), as well as in several group exhibitions in Slovenia and abroad, and has participated in a number of international artist residencies. He lives and works between Ljubljana and Radovljica.
---
Exhibition programme
Small but dangers
solo exhibition
5. – 27.1.2024
---

Education programme


---
Creativity programme
Poems in Prints / Maksa Samsa
printmaking workshop and exhibition

3. – 7. 6. 2024
---
Društvo Hiša kulture v Pivki
Snežniška cesta 2
6257 Pivka
Slovenia
Opening hours during the course of the exhibitions:

Tuesday–Thursday 10.00—14.00
Friday 14.00–18.00
Saturday 9.00–13.00
---

The Hiša kulture gallery in Pivka programme is supported by the Ministry of Culture of the Republic of Slovenia, the Municipality of Pivka and everyone who makes a donation of any amount.