---
solo exhibition


---
Iva Tratnik
Ana and Meta Morphosis

3. – 24. 3. 2023


opening
3. 3. at 7pm


curator
Mojca Grmek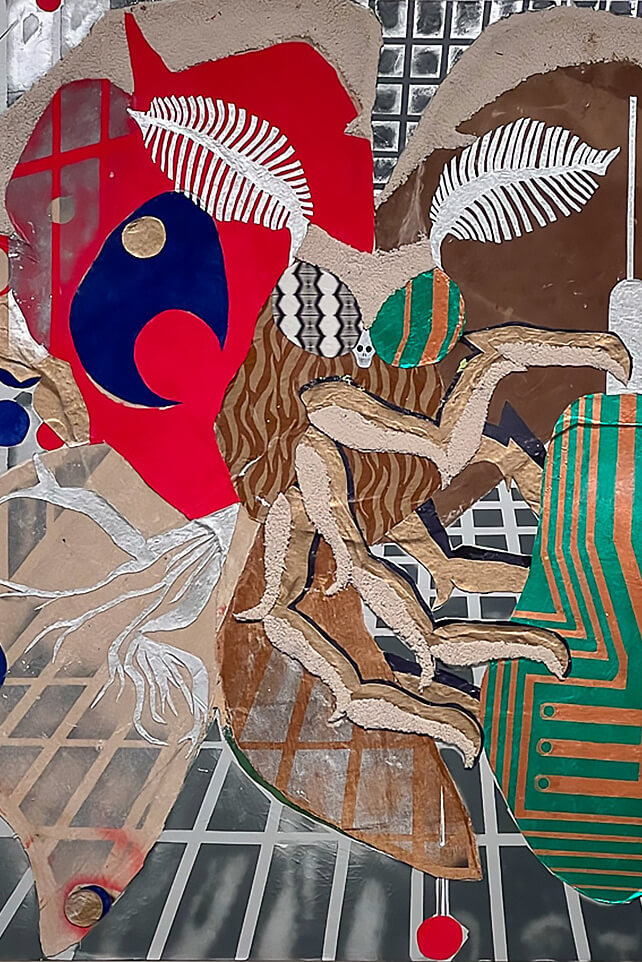 Iva Tratnik works with various media within the field of the visual arts, such as painting, drawing, collage, sculpture, photography, video and installation. In this exhibition, she presents a selection of her latest paintings.

These works are typically populated by various objects, plants and animals, as well as their fragments and remains, all of which are quite ordinary and recognisable on their own, but together form an imaginary, fantastic whole. The artist creates this tension by selecting motifs from completely different, even contradictory environments (natural-artificial, organic-industrial, present-past) and arranging them in her paintings in such a way that they defy all physical laws – either so that the spatial relations between them are (grotesquely) disproportionate, or in such a way that they float weightlessly in an undefined "space" that is a cross-section of more or less fantastic landscapes, or else in front of a flat background that is monochrome or covered with various patterns, which are in most cases reminiscent of interior decoration.

In this way, the painter creates fantastic worlds that captivate and enthral the viewer. Not only because he feels small and lost due to the large format of the medium and the gigantic scale of the depicted motifs, but also because he cannot identify with anything. Significantly, nowhere in these works does the human figure appear as a being that would structure this fantastic world and give it meaning. Rather, the human being is only indirectly present in it, through his remains – parts of the skeleton or objects he once made and used – as a thing among things. This leads to the assumption that the fantastic world depicted in the paintings is in fact a kind of posthuman community in which all the individual entities – beings, objects and human remains – are the same in their essence. They are so interwoven and intertwined that it is impossible to say where one ends and the other begins, and they form a kind of mixture, a new "primordial soup" from which a new world will eventually emerge.

That the female principle will play the main role in this process, leading it towards a more inclusive direction away from anthropocentrism, is underlined by the title of the exhibition and is also evident in certain motifs, such as the moth with its complex symbolism involving both transformation and the search for enlightenment, as well as the archetype of female knowledge (in Slovenian the term moth is used for an old woman or a witch and today has a negative connotation, whereas originally it referred to a woman who knows about nature and its pervasive powers) or the female body as a form that conceals one kind of life or another, and ultimately the entire universe.


---

Iva Tratnik (1980) completed her master's degree at the Academy of Fine Arts and Design in Ljubljana in 2012, specialising in Painting. Within the field of the visual arts, she works in the media of painting, sculpture and installation. She regularly exhibits her work in solo and group shows in Slovenia and abroad. In addition, she also works in performance, either alone or in temporary collectives. She lives and works in Celje and Ljubljana.
---
Exhibition programme
Small but dangers
solo exhibition
5. – 27.1.2024
---

Education programme


---
Creativity programme
Poems in Prints / Maksa Samsa
printmaking workshop and exhibition

3. – 7. 6. 2024
---
Društvo Hiša kulture v Pivki
Snežniška cesta 2
6257 Pivka
Slovenia
Opening hours during the course of the exhibitions:

Tuesday–Thursday 10.00—14.00
Friday 14.00–18.00
Saturday 9.00–13.00
---

The Hiša kulture gallery in Pivka programme is supported by the Ministry of Culture of the Republic of Slovenia, the Municipality of Pivka and everyone who makes a donation of any amount.