---
overview exhibition


---
HKP 25 / The Best Years

7. – 28. 7. 2023
opening
7. 7. at 7pm


curator
Mojca Grmek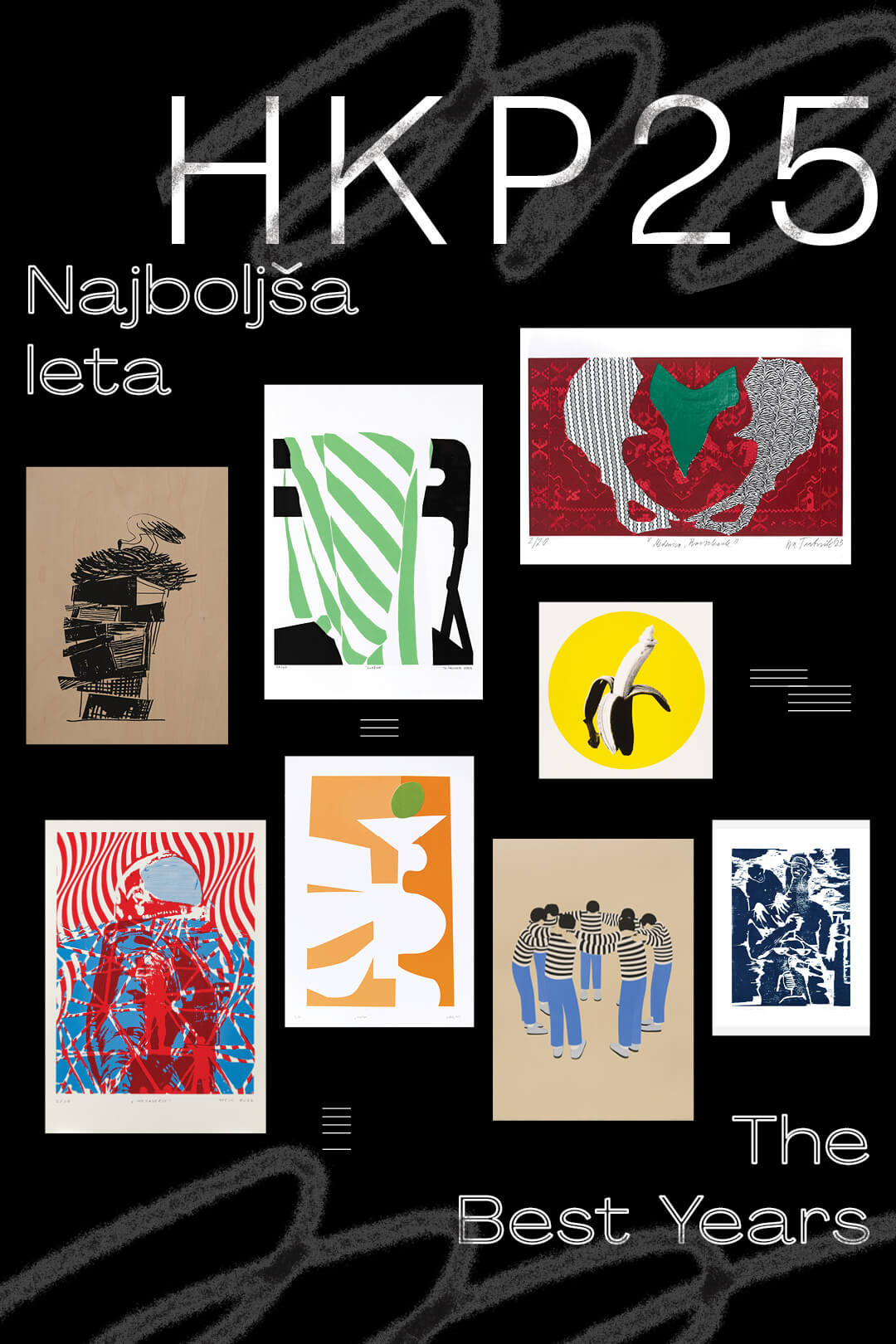 The exhibition HKP 25 / The Best Years, which presents the entire print collection of Hiša kulture, marks the 25th anniversary of its existence and the 10th anniversary under the leadership of the current team.

The story of Hiša kulture began in 1998 when a group of artists occupied an empty space in the centre of Pivka and arranged it in such a way that a wide range of cultural activities became possible. Here, a programme began to unfold that covered the entire field of contemporary urban culture, and the gallery was a central point of these activities throughout. The new team that took over Hiša kulture in 2013 placed the gallery programme in the foreground, began to develop it and expand it with various supporting programmes. Today, Hiša kulture is the main gallery for contemporary art in the region between Ljubljana and Koper.

The programmes of Hiša kulture present contemporary trends in the visual arts, with a focus on unconventional and progressive auteur approaches. In addition to the Exhibition Programme, there are several supporting programmes, including the Creativity Programme in the Print Studio, which has been run at Hiša kulture since its beginnings and is one of the most important advantages and special features of this space. The programme includes the projects ZAPATE – Zine and Print at the Exhibition (2015–), PIVKA 45°40′49.63″N 14°11′46.98″E (2015–2021) and Poems in Prints (2022–2025), the by-product of which is a permanent collection of graphic works. Currently, the collection comprises more than 150 items, contributed by more than 50 artists.

Participating artists are Nevena Aleksovski, Urška Alič, Ivana Bajec, Boris Beja, Beli sladoled, Nina Slejko Blom, Maks Bricelj, Vesna Bukovec, Nina Čelhar, Deso, Jovana Đukić, Mina Fina, Matic Flajs, Marko K. Gavez, Evgen Čopi Gorišek, Neža Jurman, Neža Knez, Simon Kocjančič, Nejc Korenič, Andreja Kranjec, Maria Karnar-Lemesheva, Polonca Lovšin, Miha Majes, Petra Matijevič, Erik Mavrič, Vanja Mervič, My Familiar Unfamiliar, Tanja Milharčič, Mia Paller, Miha Perne, Tejka Pezdirc, Oliver Pilič, Monika Plemen, Adrijan Praznik, Zoran Pungerčar, Maša Pušnik, Lara Reichmann, Tibor Rep, Rone84, Nika Rupnik, Nataša in Katja Skušek, Jure Šajn, Marko Šajn, Luka Širok, Helena Tahir, Iva Tratnik, Jaka Vatovec, Sonja Vulpes, Uroš Weinberger, Leon Zuodar, Tilen Žbona.

---
Exhibition programme
Small but dangers
solo exhibition
5. – 27.1.2024
---

Education programme


---
Creativity programme
Poems in Prints / Maksa Samsa
printmaking workshop and exhibition

3. – 7. 6. 2024
---
Društvo Hiša kulture v Pivki
Snežniška cesta 2
6257 Pivka
Slovenia
Opening hours during the course of the exhibitions:

Tuesday–Thursday 10.00—14.00
Friday 14.00–18.00
Saturday 9.00–13.00
---

The Hiša kulture gallery in Pivka programme is supported by the Ministry of Culture of the Republic of Slovenia, the Municipality of Pivka and everyone who makes a donation of any amount.