---
solo exhibition


---
Adrijan Praznik
WHO CAN BE SURE OF ANYTHING

5. – 26. 5. 2023


opening
5. 5. at 7pm



curator
Mojca Grmek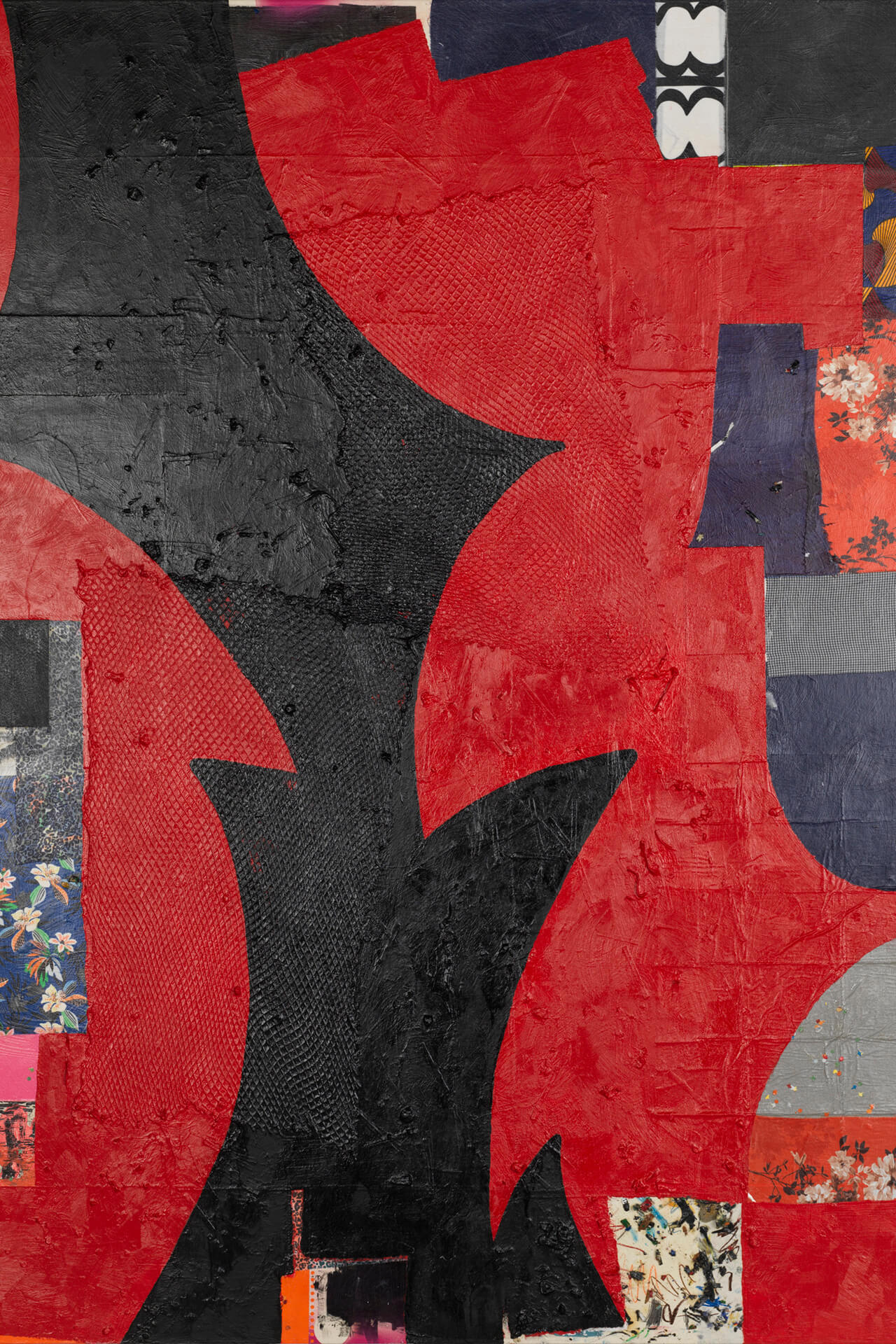 Adrijan Praznik is a painter of the middle generation, who is already well recognised on the Slovenian art scene and has also exhibited abroad. In his paintings, he uses a variety of materials and processes, which he combines and interweaves within single paintings so that different themes also appear simultaneously in his works. His working method is therefore clearly collage-like, which the artist sees as a reflection of the times we live in and especially the way we experience our everyday lives.
In this exhibition, he presents his latest works, which focus on layering fabrics with different textures and patterns, applications of paint and various other materials such as nets, papers, found texts, images and so on. The artist applies the materials in several layers, creating a relief on the surface of the painting, which is sometimes further animated by pasty layers of paint in a chosen colour, usually black and white, or a limited colour palette. Finally, he covers the surface with varnish to emphasise the drawing of light created in the relief. He often inserts texts into his paintings that also serve as titles, or he clearly outlines individual motifs that function as symbols (e.g. a carnation or a skull).
The resulting works are characterised by a play of contrasts that takes place on various levels – between the colourful textile collage and the predominantly monochrome areas of colour, between the orderly treatment of the lower layers and the loose applications of paint over them, between the relief and smooth surfaces and the highlighted and shaded areas, and not least between the stark directness of the central field and the hints that arise from the accents on the edges. The method of consciously combining and interweaving different materials and processes, with which the artist creates an infinite play of contrasts in his paintings, is also conditioned by the process of their interpretation – it is determined by a constant transition between associations, memories, experiences, thoughts, feelings and the skipping between the conscious and the unconscious, which means that nothing definitive can be said about them.
* The title of the exhibition WHO CAN BE SURE OF ANYTHING is a visual quotation or transcription of the picture-text from one of the works in the exhibition.
---
Adrijan Praznik
(1988) completed his studies in Painting at the Academy of Fine Arts and Design in Ljubljana. He has presented his works in several solo exhibitions, including at Simulaker Gallery in Novo mesto (2016), Hiša kulture in Pivka (2017), Alkatraz Gallery (2021), GalerijaGallery (2021) and Švicarija (2022) in Ljubljana. His work has been featured in many presentations at home and abroad, including in the exhibition A time without innocence at Moderna galerija (2019) and The next 21 days will be crucial at Škuc Gallery (2021) in Ljubljana. He also works as a curator and producer. In 2017–2018, he attended the School of Curatorial Practice and Critical Writing, World of Art. Since 2020, he has been the artistic director and curator of Simulaker Gallery in Novo mesto. As a curator and producer, he has co-created the konSequence exhibition in Ljubljana's Cukrarna gallery (2023) as part of the konS project. He lives and works in Ljubljana.
instagr.am/adrijan_praznik
Special thanks: Goran Bertok, Simon Gmajner, Lara Malec, Lenart Merlin, Jan Pogorelec, Miha Perne, Bernarda Praznik, Katja Vidovič, Jure Zrimšek and the institutes Projekt Atol, Kersnikova and LokalPatriot, as well as ŠKUC Association.

---
Exhibition programme
Small but dangers
solo exhibition
5. – 27.1.2024
---

Education programme


---
Creativity programme
Poems in Prints / Maksa Samsa
printmaking workshop and exhibition

3. – 7. 6. 2024
---
Društvo Hiša kulture v Pivki
Snežniška cesta 2
6257 Pivka
Slovenia
Opening hours during the course of the exhibitions:

Tuesday–Thursday 10.00—14.00
Friday 14.00–18.00
Saturday 9.00–13.00
---

The Hiša kulture gallery in Pivka programme is supported by the Ministry of Culture of the Republic of Slovenia, the Municipality of Pivka and everyone who makes a donation of any amount.